The DownStairs Press
Letterpresss – Books & Broadsides
Photos provided by Jack Mader.
Andrew 23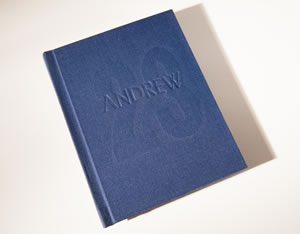 5 x 7 inches • 72 pages • 23 numbered copies.  Hand set in Spartan Medium, Baskerville and Lydian. Printed on Nekoosa Linen paper. Binding in full cloth over boards by Campbell-Logan Bindery. $23.
In 1986 my son, Andrew, was reading Robert Anton Wilson's Illuminatus Trilogy and I was reading William S. Burroughs in the Fortean Times.  It seems Burroughs was interested in the 23 Enigma and Wilson had picked up from him that 23 was a sacred, mythic or magical number.  As Andrew became more and more engrossed in the Illuminati, and in the number 23, I decided to make a book for him for his 23rd birthday.  I wrote a poem for him containing 23 words.
ANDREW 23 offers that poem, letterpress printed in 23 variations on a Chandler and Price Pilot press, in an edition of 23 copies.  The book is the first offering from DownStairs Press, from a time when the press was housed in a small room at the back of my basement.
Copies are numbered 1-23 and bound by Campbell-Logan bindery.  Number 1 was given to Andrew on his 23rd birthday.
Sample poem from this volume
ANDREW 23
this vaunted door
once you pass through
like any word or world
forget how inviting or impossible
returns to being
simply a door