The DownStairs Press
Letterpresss – Books & Broadsides
Photos provided by Jack Mader.
If They Help You
Click image to zoom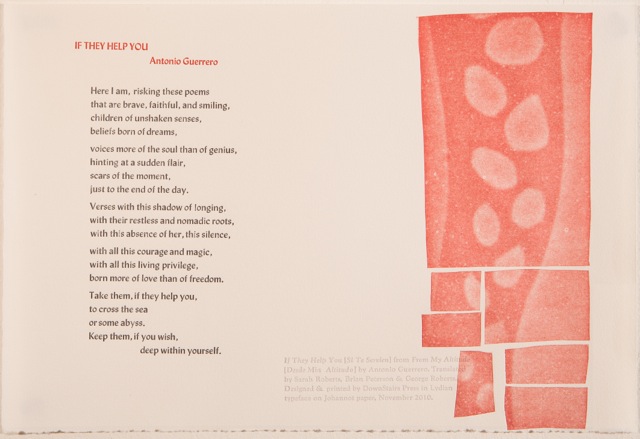 13 x 9 inches • 30 numbered prints.  Hand set in Lydian, Goudy Old Style and Goudy Hand Tooled and printed on Johanna paper with a relief print image.  $35.  (Prints are in the possession of the Minnesota Cuba Committee but may be purchased through this website.)
In November 2010, we hosted a show in the Homewood Studios gallery of paintings by Antonio Guerrero, one of the Cuban Five – a handful of unjustly incarcerated Cuban workers who had come to the United States in 1998 to monitor the activities of the groups and organizations responsible for terrorist activities against Cuba.
On of these men, Antonio Guerrero, a young poet, had begun to paint while in federal prison and a tour of his paintings was being shown throughout the United States to help raise consciousness as well as funds to support their cause.
I determined to create a broadside of one of Guerrero's poems as a way of contributing to this effort.  With the help of my niece, Sarah deleCueva and her husband, Brain, we translated Antonio's poem.  I then printed the broadside, giving thirty prints to the Minnesota Cuba Committee, sponsors of the exhibition.