The DownStairs Press
Letterpresss – Books & Broadsides
Photos provided by Jack Mader.
More Short Talks
thirty prose poems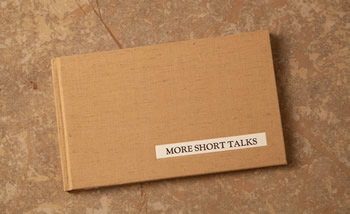 5½ x 8¾ inches • 40 pages • Edition of 40 numbered copies. Edited and hand set in Garamond, Garamond Italic, Goudy Hand Tooled and Lydian fonts by George Roberts at DownStairs Press. Printed on Mowhawk Superfine Light Cover. Endpapers especially made for this edition by Steve Pittlekow. Binding in full cloth over boards by Campbell-Logan Bindery. $75.
A former (and one of my all-time favorite) students, Zoë Bird, introduced me to the work of Canadian poet and classics teacher, Anne Carson. One of Carson's books, Short Talks, captured my imagination for its wily ability to combine deep scholarship with startling imagery. I set out to try some poetry emulating what I admired in her work.
I grew aware, over the year I spent writing these poems, of the rich tradition — including Michele de Montaigne, George Orwell, Francis Bacon, Ralph Waldo Emerson, Cynthia Ozick and Joan Didion, — of 'essays' on some item of interest to the writer. What I learned in this process of reading others and doing my own writing was to be aware of my question, not what I already knew. Let surprises happen.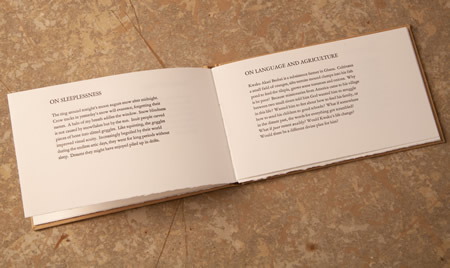 Sample poem from this volume
MORE SHORT TALKS
ON DARK MATTER
The universe teems with dark matter…perhaps one fourth of everything. Like joy, or loss, or forgiveness, we know almost nothing about it. Even the sound these words make leaving our mouths is little more than smoke drifting through a screen door. A mile below the Gran Sasso mountain range in central Italy, a machine the size of a carnival dunk tank sits humming, looking for dark matter. On what sort of knowledge do scientists depend for building a device designed to search out what they cannot name but only guess at? We respond to each other by things invisible, intangible, noticing here and there a small gravity tug rippling in the dark pools of our own stillness. This might be a good way to live…understanding most of what propels us remains unknowable, yet binds together everything we hold dear.